How the DoggoRamp Came About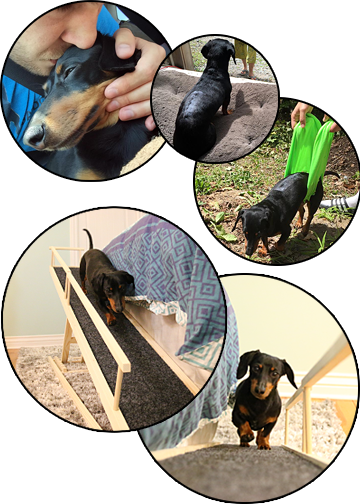 I am the owner and creator of Crusoe the Celebrity Dachshund, an internet-famous wiener dog, but my introduction to ramps occurred when Crusoe underwent spinal surgery in 2016 for a blown disc. He unfortunately suffers from Intervertebral Disc Disease (IVDD), which affects 25% of dachshunds as well as other long-bodied dogs. That was a really difficult time that I never want to go through again.
Most IVDD-related injuries occur from dogs jumping off high places, so, a lot of time was spent searching online for a bed ramp, but nothing came close to what we wanted in looks or functionality. All the other solutions I found were either.. ramps that were too short, and thus too steep and slippery.. or stairs, which as I know from all the research I did, are not a good solution as the repeated small impacts still do add up.
So over the past couple years, prototypes were built and rebuilt, and finally I created a ramp that WORKS, allowing our little pup to get onto and off the bed easily and safely. But it was the added features of being adjustable to different heights, having railings so they would't jump off the sides, easily collapisible/stowable that make it so versatile and useful for everyone with a small dog. Introducing, DoggoRamps!
It is great to have a product that solves a problem but can also make a difference in protecting dogs from injury, especially dachshunds with their sensitive backs. Seeing my little guy through surgery, teaching him to walk again, and seeing him suffer while not even understanding himself why it was all happening, was... heartbreaking. No dog owner or dog should have to go through that.
If you'd like to read more about Crusoe and his journey and recovery from surgery and IVDD, you can read about that on his blog here.
I am proud that my invention will help save pups avoid accidents, and allow pups and hoomans to enjoy more cuddles in bed, without the worry.
Sincerely,
Ryan Beauchesne
Owner/Founder, DoggoRamps