As of mid-December, we fulfilled the last of all remaining orders from our original campaign period. We appreciate all your support so much by investing in this product, and also by being patient for those who had to wait a little longer than others.. We have over 3000 ramps in homes now, helping pups stay safe and enjoy more cuddles. Each of you helped make that happen. We're also stocked up now so are fulfilling new orders in real time, yay!
So, as a thank you, and to celebrate the New Year, we're giving away $1000 through a little giveaway contest for our customers. There are two categories, and one winner from each category will EACH receive $250 in their pocket, and $250 to an animal charity of their choice.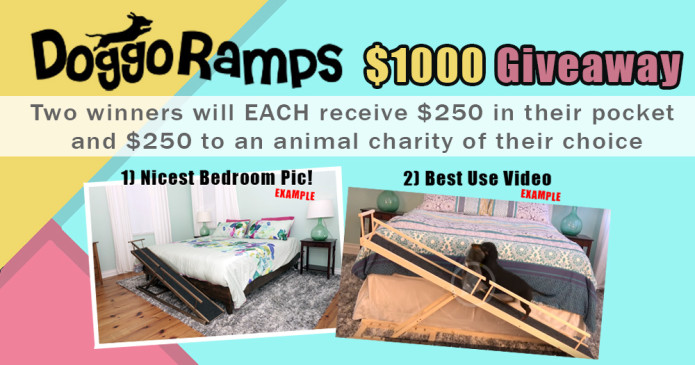 Category 1, must be entered as a photo, and will be judged based on the nicest bedroom/DoggoRamp setup! 
Category 2, must be entered as a video, and will be judged based on the best/cutest use of the DoggoRamp by your pet (dog or cat).
TO ENTER:
Visit the contest page with button below to submit your photo or video.
For photo submissions (category 1), you can upload photo direct through contest page, or your photo will be automatically entered from Instagram, Facebook, or Twitter just be using hashtag #DoggoRamps
For video submissions (category 2), you need to upload to YouTube, Instagram, or Vimeo and then copy/paste link to the contest entry page. For Instagram and Facebook, you have option of just using hashtag #DoggoRamps to enter it automatically.

Thank you all! Can't wait to see your DoggoRamps in action! 
Happy ramping & happy New year,
Ryan